Israel kills over 500 Palestinians in 14 days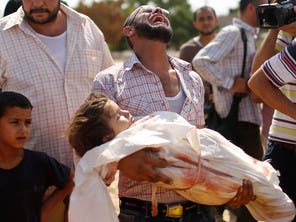 GAZA:Israel has killed more than 500 Palestinians since it launched a military offensive on Gaza Strip 14 days ago, as the airstrikes and shelling killed at least 20 people on Monday.An Israeli air strike on a home in the center of Gaza City killed eight people, including four children, Palestinian medics said Monday.The new strike came shortly after Israeli shelling of a central Gaza hospital killed at least five people, emergency services spokesman Ashraf al-Qudra told AFP.A relative cries as he carries the body of three-year-old Palestinian girl Haniyeh Abu Jarad, who medics said was killed along with her father and other six members from the same family by an Israeli tank shell, during their funeral in Beit Lahiya in the northern Gaza Strip July 19, 2014. (Reuters)Al-Qudra said the shells landed in the administration building, the intensive care unit and the surgery department.Al-Qudra also said 45 bodies were recovered from the rubble of areas hit on Sunday, 11 of which were from Shejaiya, increasing Sunday's death toll to 72, AFP reported.The United Nations Security Council is expected to hold an emergency meeting late Sunday on the situation in Gaza.Diplomats said the meeting, open to the public and set for 9:30 pm (0130 GMT Monday), was requested by council member Jordan, following a call by Palestinian President Mahmoud Abbas.The Council's 15 members held a meeting on Gaza Friday but failed to reach agreement on a joint declaration.Since the conflict began on July 8, the council also held a first inconclusive meeting on July 10, before calling for a ceasefire in a unanimous declaration.He condemned the "atrocious action" in Shejaiya and urged Israel to "exercise maximum restraint.""Too many innocent people are dying... (and) living in constant fear," Ban told a news conference in Doha.U.N. Secretary-General Ban Ki-moon is in Doha as part of a Middle East tour to push truce efforts.Palestinian President Abbas has described the killing of 62 civilians in Gaza's Shejaiya neighborhood on Sunday as "a crime against humanity.""Those who committed it will not go unpunished," Abbas added.The Israeli army said 13 soldiers had been killed inside Gaza on the third day of a major ground operation.On Monday, Hamas's armed wing the Ezzeddine al-Qassam brigade said two Israeli soldiers were killed in the Shejaiya neighborhood on Sunday.Al-Qassam meanwhile claimed it had kidnapped an Israeli soldier, prompting celebrations in the streets of Gaza City and West Bank cities.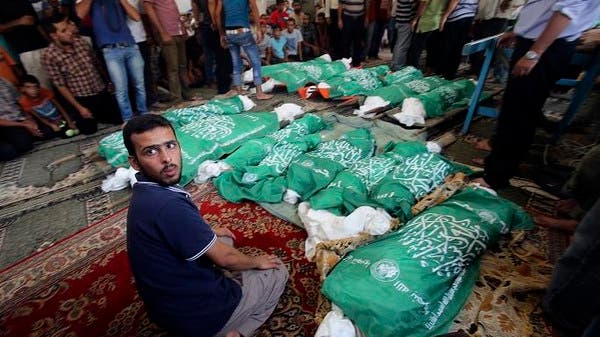 LAHORE: Jamaat-e-Islami Amir Sirajul Haq has announced to observe the coming Friday as a nationwide solidarity day over Gaza issue.In a press release issued here at Mansoora, the headquarter of JI,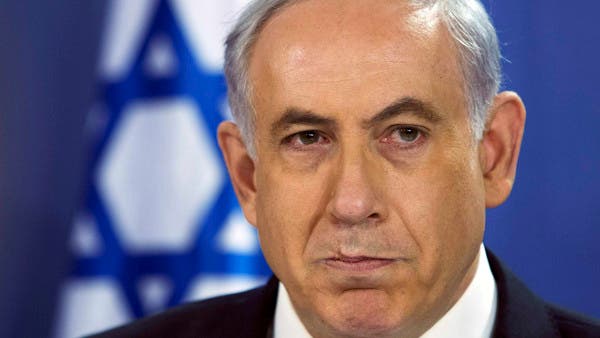 Israeli Prime Minister Benjamin Netanyahu said Sunday that Israel won "international legitimacy" for its ongoing military assault on Gaza, which has claimed the lives of more than 430 Palestinians over the past 13 days.
LAHORE: The Lahore Registry of the Supreme Court has declared the decision to restore Zaka Ashraf as Pakistan Cricket Board (PCB) chairman illegal and ordered that an acting chairman and chief election commissioner be appointment within seven days.
AZAD KASHMIR: Ten passengers lost their lives when a bus fell into a ravine in Azad Kashmir,  According to police, a passenger bus enroute to Samahni fell into a ravine near Puna that killed ten passengers while more than 20 got injured.
KARACHI: Extortion in the metropolis decreased during the holy month of Ramzan, Acting Inspector General of Police (IGP) Ghullam Hyder Jamali told reporters on Monday.
LAHORE: Punjab Chief Minister Shahbaz Sharif has ordered the arrest of Member Provincial Assembly (MPA) Rana Shoaib. PML-N MPA Rana Shoaib is accused of attacking the Khurrianwala police station with his supporters and freeing accused involved in criminal cases.